British Ambassador observed exercise drilling by UK and Finnish troops in Santahamina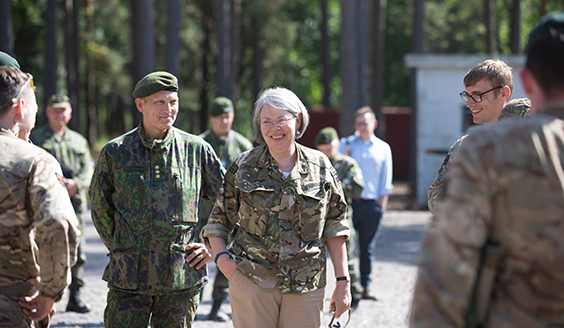 On Thursday, a Chinook helicopter of the British Army took H.E. Theresa Bubbear OBE, British Ambassador to Finland, to familiarise with Santahamina from the air. On the flight were also Deputy Commander of the Guard Jaeger Regiment Colonel Vesa Laitonen, Army Ch TRNG Colonel Hannu Teittinen, as well as Major Alexander Corder from the British Army.
Colonel Laitonen spoke highly of the UK troops and their cooperation activity with the Guard Jaeger Regiment. In particular, the training exercise Vigilant Fox arranged in Niinisalo over the past few weeks demonstrated and validated seamless interoperable cooperation.
- I have seen plenty of happy faces while following the exercising activity both in Santahamina and in Niinisalo, Colonel Laitonen explained to the Ambassador.
- Our mates from the UK are own-initiative and pragmatic soldiers. They have been able to utilise well the training environment available in Santahamina, forest terrain, and MOUT training area both while training on their own and when exercising together with the Finns. Obviously, differences can be discerned relating to minor details which is also an advantage as it pays off to discuss these differences. We all have mutually learned from our strengths.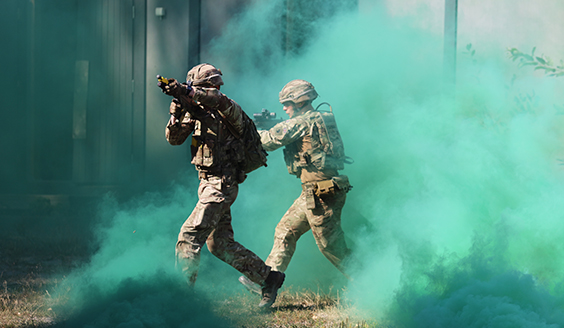 - The British Armed Forces are a professional army, and this professionalism is reflected in their operating activity. Missions are completed vigorously, with no complaints voiced concerning minor setbacks. This said, the Guard Jaeger Regiment's conscripts have done very well, and our persons liable for military service are comparable to their professional counterparts. The liability for military service has again proven its capacity, Colonel Laitonen said.
British Ambassador Theresa Bubbear said:
- It was fantastic to see how well the British and Finnish forces are working together and learning from each other. I enjoyed meeting the troops, hearing first-hand how they are improving skills on both sides, and seeing impressive displays of the soldiers' capabilities. It is clear that Finland and the UK are stronger together.