Civil protection as the theme of the local defence exercise Kehä 23 in the capital region this autumn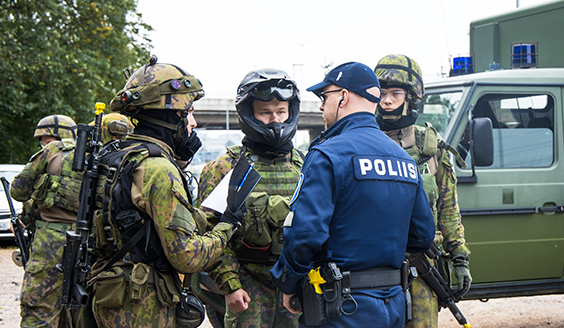 The Guard Jaeger Regiment -led local defence exercise Kehä 23, the second one this year, will be held during 3.–8.9.2023 in the capital region. The strength of the training audience will be up to c. 800 personnel comprising conscripts, reservists, and service personnel. The exercise will be commanded by Deputy Commander of the Guard Jaeger Regiment, Colonel Vesa Laitonen.
The exercise will involve local-level exercising of inter-agency co-operation, the objective of which is to develop mutual inter-agency operating capacities. The participating authorities will include Helsinki Police, Helsinki Rescue Department, City of Helsinki, and Gulf of Finland Coast Guard. Additionally, this marks the first time that the exercise will be participated by the Finnish Association of Funeral Services, Helsinki Lutheran Diocese, Espoo Lutheran Diocese, and Helsinki Lutheran Parishes Authority.
This autumn the local defence exercise functions as a so-called closing battle for the conscripts serving 255 days in conscript service, military police trained for rank and file tasks, as well as for conscript leaders and rank and file of the reconnaissance company of the FDF Sports School who will muster out into the reserve in September.
In the local defence exercise Kehä 23, the units' operating activity will concentrate on the capital region. Exercise drilling will be conducted in the areas ofn Helsinki, Vantaa, Espoo, Kirkkonummi, Lohja and Järvenpää. The training audience troops will be wearing combat load including an assault rifle. Target detachments may also wear civilian clothing. Service personnel will wear yellow high-visibility vests on their fatigues. The exercise will involve up to c. 150 vehicles, including armoured vehicles. In some of the exercise drill locations, blank drill ammunition will be used that may cause noise in the vicinity. More specific information on the exact locations and times will be outlined later in a release on noise disturbance.
Follow the exercise on social media
The exercise can be followed on social media with hashtags: #kehä23, #kaartjr, #maavoimat, #paikallisturvallisuus, #paikallispuolustajat, and #reservinura.