Does your military service start in July? This is how to get ready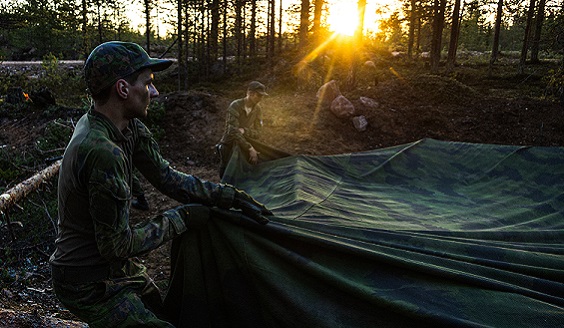 Contingent 2/23 recruits start their military service on 15 July 2023. You will get best prepared for military service by starting to work on your physical fitness, taking care of matters related to your military service and civilian life, and getting familiar with different service tasks. Here are some tips for how to get ready.
Exercise regularly
In the military, exercising is part of the daily routines. Getting used to this is easier, if you start exercising regularly before you enter military service. Daily activities exercising, such as riding your bike to go to work or grocery shopping is an easy way of starting it off. It would be a worthwhile idea to use the Defence Forces' MarsMars fitness application which contains versatile exercising tips both for those exercising actively and beginners.
Take care of matters involving your military service
Order to enter service
You have received an order to enter service at the call-up or it has been posted to you by mail. It contains information concerning when and in which brigade-level unit you are to begin service. Keep it in a safe place, because the service entry order will also double as your travel ticket. You can use it to travel by train in Finland from your home location to your service location (excl. capital city area HSL traffic). There are instructions for travelling by other means of transportation in the Recruit Letter and on the intti.fi website.
Recruit Letter
Your brigade-level unit will send you a Recruit Letter by mail before the start of your service. The Recruit Letter contains information and instructions for starting service, so take a good look at it. You will also be able to access the letter in electronic form also on the brigade-level units' websites before service.
Changing the date of entry into service or service location
If you have a pressing personal reason to change the date on which you are expected to start your military service, you must apply for change of date of entry into service or service location well before your set date of reporting for service. Your contingent may be changed, if it is considered absolutely necessary, for example, for graduating in a profession, because of studies, for arranging your financial situation or some other similar personal reason. The service location can be changed, if it is absolutely necessary for the conscript for some special personal reason.
For applying for service entry date or service location change you must submit an application form to your regional office. The application must include justification and proof of the necessity of changing the service entry date, for example, a certificate by your educational establishment regarding the time required for your studies. Please note that you will only receive a decision concerning your application either by going to your regional office in person (take an official personal identity card/passport with you) or by an advice of delivery letter posted to you. Having left in an application is not sufficient justification for not reporting for service.
Change in your state of health
If your state of health undergoes a change before entering service that would prevent you from travelling or would negatively affect your service, you must provide a medical certificate to your regional office. Please note that having left in a medical certificate is not sufficient justification for not reporting for service. Rather, you need a separate decision from your regional office for this purpose.
Service tasks
What would you like to do and learn in military service? This is a question anyone entering military service should think about well in advance. The Defence Forces offers more than 600 different service tasks for which you can use, for example, your educational or professional background, or learn something completely new to you. On the intti.fi website you can find information about various service tasks and in which brigade-level units they are available. Think about what kind of know-how, qualities or interests you have and what kind of tasks could be right for you.
Take care of your civilian life matters
The first few weeks at the beginning of military service tend to be very intense, so taking care of civilian life matters from afar could be challenging. If you take care of matters involving your finances, studies and employment relationship before your military service, you can focus on the basic training phase without any worries.
Financial matters
The social security institution Kela pays conscript allowance for the person liable for military service undertaking conscript service and their immediate family for the duration of the service. At the earliest, you may apply for conscript allowance a month prior to starting your service on the Kela website. More information about conscript allowance and the financial support included is available on the Kela website.
Conscripts' daily allowance (per diem) is only enough to cover small expenses from living in garrison, so you should think about how the changes in your income level will impact your ability to pay any loans and other payments. It is a good idea to try to agree to postpone loan instalments or make part-payment arrangements with your bank or other lender. Avoid taking loans and making instalment purchases before or during military service.
Studies
While in military service, you can plan for studies after military service, apply and participate in entrance exams. Your brigade-level unit's social welfare officers will give you guidance. Neither financial aid for students nor state-subsidized student loans are paid during military service. You can apply for financial support from Kela for interest on your student loan during military service.
If you have just been accepted to an educational institution, it is almost always possible to postpone the beginning of your studies until you are mustered out. You must contact your educational institution to make an agreement regarding the matter. Some educational institutions may request a written certificate that you will enter military service.
Employment relationship
According to law, public service or employment contracts cannot be terminated or any notice given on them by the employer while the employee is in military service. Don't terminate your employment relationship because of military service! Tell your employer at least two months in advance when your service starts and make initial arrangements for when you are returning to work. Let the employer know at least 14 days in advance that you are returning to work.
Unemployment
If you are unemployed, you must inform the Employment and Economic Development Office of the date you begin your military service, and regularly report to the employment office until your military service starts. You must also inform the unemployment fund if you receive earnings-related unemployment allowance.
Take a look at life in the military on the website or social media
What does life in the military life look like? On the Intti.fi website you will find answers to questions which are future conscripts' most common concerns as well as useful information about military service and how to get ready for it. The Conscript 2023 guide is also a comprehensive information package for future conscripts getting ready for military service. You can download it here.
The Defence Forces provides actively information about its activities on social media - so start following our channels!
Welcome to military service in July!