Firepower and interoperability of the Army MBTs Leopard 2 to improve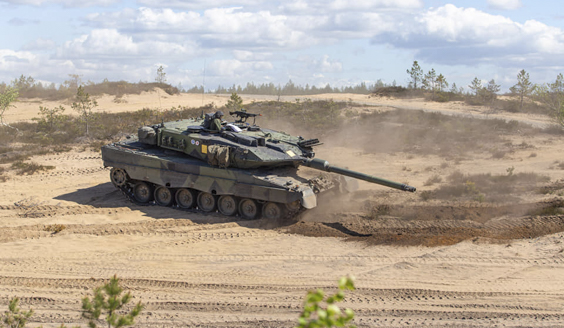 The Ministry of Defence has authorised the Finnish Defence Forces to sign a contract on the firing control system ballistics upgrade for the Army main battle tanks Leopard 2 A4 and 2 A6. The procurement will upgrade the capability of the MBTs Leopard 2 A4 and 2 A6 originally procured from Germany and the Netherlands.
- The upgrade will incorporate into the Leopard MBT fleet the ability to fire new HE/FRAG projectiles in addition to the ammunition already in place. This will significantly improve the MBTs firepower, utilisation opportunities and ability to provide support to Army troops, Inspector of Infantry, Colonel Rainer Peltoniemi from the Army Command says.
- The procurement also marks a new capability, and the ballistics upgrade will enable using multipurpose HE/FRAG rounds in training as of 2023. This matter has been prepared in cooperation with Sweden, and the procurement will provide Finland and Sweden with the ability to use identical ammunition, which will improve interoperability.
The contract on the upgrade will be signed with Krauss-Maffei Wegmann GmbH & Co. KG from Germany. The implementation will also rely on the Defence Forces' strategic partner Millog Ltd. relating to specialist consultation, installments and logistics. In Finland, the estimated employment impact will be 3-4-person employment years in total.
According to plan, the upgrade of the Leopard MBT fleet will start in early 2022 to run until 2026. The total value of the procurement with options exclusive of VAT will be c. EUR 10 million, and it will be financed from the Defence Forces' materiel procurement resources as planned, budgeted and allocated for the purpose.
The Ministry of Defence issued a release on the acquisition on 7.12.2021.