In the north exercising multinational fires and combat operating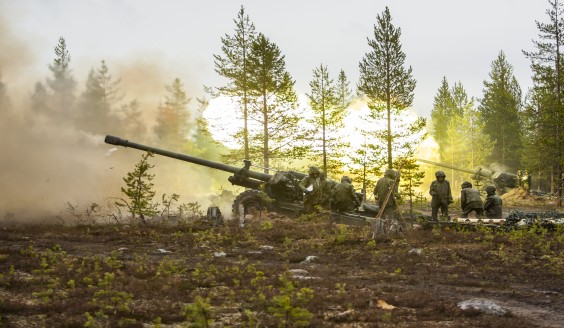 At the Rovajärvi range and training exercise area the Army Academy will lead the exercise Lightning Strike 23 during 15.–26.5.2023, and the exercise Northern Forest 23 during 27.5.–2.6.2023. The exercises will develop joint fires and combat operating with forces of the alliance and Sweden, as well as the ability for providing and receiving international assistance.
The exercises will be participated by units from the Army brigade-level units, Air Force, Finnish Border Guard, Finnish Defence Forces' C5 Agency, Centre for Military Medicine, and Logistics Command. The total strength of the training audience forces will be up to c. 8,000 soldiers, of whom c. 1,100 will be international troops from the U.S.A., the U.K., Sweden, and Norway.
The exercise Lightning Strike 23 starting on 15 May will develop the Finnish Defence Forces' joint fires and interoperable combat-arms operating in a rapid situation development in an extensive area, as well as the alliance nations' and Sweden's multinational joint operating ability in the use of combined joint fires. The exercise will consist of an artillery LFX and infantry LFX.
The FTX Northern Forest 23 will start at Rovajärvi on 27 May, and it will involve exercising execution of joint operations with the allies and Sweden.
– We will exercise and develop together with our international allies and Sweden the interoperability of our functions comprehensively and develop our capabilities. Combined joint exercising is instrumental for our national defence, international co-operation, and also for the alliance, Director of the exercises, Colonel Janne Mäkitalo from the Army Academy says.
The exercises Lightning Strike 23 and Northern Forest 23 will involve in peak time up to c. 4,300 conscripts and 1,800 reservists.
– The training exercises are an excellent way to develop the competence of conscripts and reservists both on individual and force level. For many conscripts, the exercise will also mark the conscript service's closing battle that allows them to demonstrate the competence generated by the Finnish liability for military service while operating with international forces.
Follow the exercises on social media channels:
Facebook: Maavoimat - Armén - The Finnish Army sekä Maasotakoulu - Army Academy
Twitter: @maavoimat @MaasotaK
Instagram: @maavoimat
#LIST23 and #NF23 #StrongerTogether

More information: Army training and exercise activity this spring will develop capability for international interoperable operating - The Finnish Army (maavoimat.fi)