Guard Jaeger Regiment trains in Sweden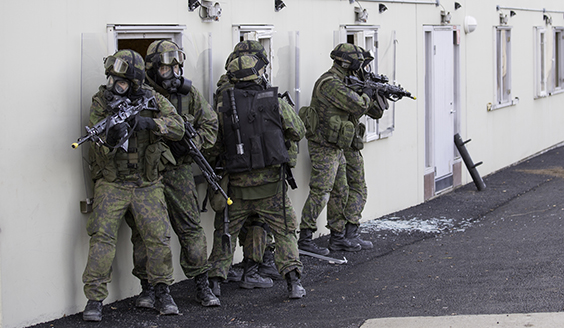 Exercise KVARN17 will develop the operational capabilities of urban warfare units to defend Helsinki and the Uusimaa region.
Urban area field training exercise KVARN17, led by the Guard Jaeger Regiment, will take place in Kvarn, Sweden, from 3 to 10 June 2017. The strength of the Urban Jaeger Company participating in the exercise is approximately 320 persons, of which 290 are conscripts. The exercise will be led by Lieutenant Colonel Niko Hölttä, Commander of the Uusimaa Jaeger Battalion.
The exercise provides the Guard Jaeger Regiment with an opportunity to utilize the excellent urban training facilities of the Swedish Army. The exercise is carried out as part of the bilateral cooperation between the Finnish and Swedish Armies. The Swedish Army will also support the exercise with six armoured personnel carriers.
The Combat Training Centre for Military Operations on Urban Terrain (CTC MOUT) is exceptionally large, enabling realistic combat operations and the best possible feedback and a measure of the performance of the Urban Jaeger Company. The exercise is hosted by the Swedish Land Warfare Centre (Markstridsskolan),
Exercise KVARN17 will also develop mobilization procedures and deploying units to international exercises and operations as well as improve the Finnish soldiers' capability to provide and receive assistance in case of crisis. The Finnish Ministry of Defence has approved the exercise as part of the Finnish Army's international exercise activities for 2017.
Follow the exercise online:
facebook.com/maavoimat #KVARN17 #maavoimat #fise
twitter.com/maavoimat @maavoimat
instagram.com/puolustusvoimat.fi
For more details:
Public Information Officer Juuso Metsälä, +358 299 421 233, [email protected]