Lightning Strike 22 brings circa 3,300 troops to exercise at Rovajärvi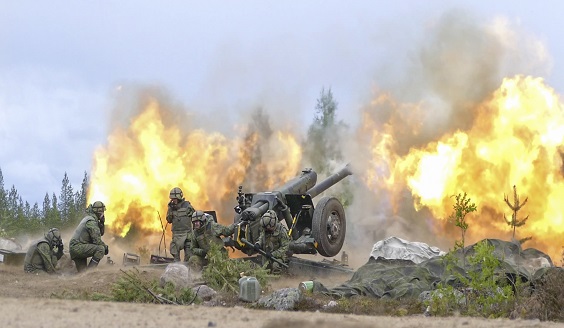 On 16-27 May 2022, the Army Academy will lead the exercise Lightning Strike 22 at the Rovajärvi military range and training area.
Involving an infantry and artillery LFX, the exercise aims to develop the units' use of fires and inter-arms cooperating in a rapidly evolving situation framework over a wide area.
Attended by altogether circa 3,300 personnel and 450 vehicles from the Finnish Defence Forces in total, the exercise will be a final training exercise for circa 2,500 conscripts who get to demonstrate their skills and competence and exercise their set wartime tasks. The training exercise will also be attended by circa 130 reservists and 660 service personnel, including cadets.
The exercise will be participated by units from the Army, Navy, Air Force, and from the Finnish Border Guard. Alongside the Army Academy, the Army brigade-level units attending the exercise will include the Jaeger Brigade, Guard Jaeger Regiment, Kainuu Brigade, Karelia Brigade, Pori Brigade, and the Armoured Brigade. The exercise will also be participated by troops from the Finnish Defence Forces' C5 Agency, Centre for Military Medicine, Leijona Catering, and the 3. Logistics Regiment.
The exercise equipment will include, for instance, the heavy armoured howitzer K9, the heavy rocket launcher, as well as the armoured-vehicle-mounted mortar system AMOS. The LFX will include artillery fires on 16.-26.5.2022, and infantry fires on 21.-27.5.2022, respectively.
The exercise will be commanded by Commandant of the Army Academy, Colonel Sami-Antti Takamaa.
- The exercise Lightning Strike 22 will bring service personnel, conscripts and reservists from across Finland to Rovajärvi. The exercise will involve large-scale testing relating to use of fires by means of a host of systems. One of a kind, the military range and training area at Rovajärvi enables safe conducting of versatile fires and field training exercises. I welcome the training audience at Rovajärvi and to test their own branch's capability.

The exercise can be followed on the social media channels of the Army and of the Army Academy with #LIST22 #maavoimat #maask and in website: Lightning Strike 22 - Maavoimat Maavoimat