Local defence exercises to start across the country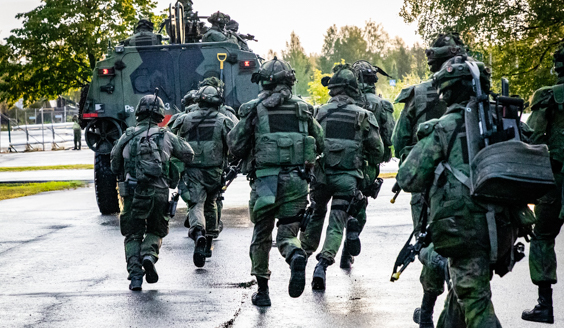 From 7 to 11 September, the Army will organise altogether six local defence exercises in areas that cover several regions. In total, these exercises will involve circa 4,400 Finnish Defence Forces' personnel, conscripts, reservists, as well as representatives of other authorities.
The training exercises will develop local defence readiness and combat capability, as well as inter-authority cooperation in rapidly evolving situations in all of Finland's area. In addition, the exercises also serve in developing local units' command, control and communications, as well as equipment.
As of this year, due to the COVID-19 pandemic, the Finnish Defence Forces implements changes affecting the training and exercising arrangements for persons liable for military service. These changes will enable meeting the set training objectives and sustaining readiness. The local defence exercises will be carried out as planned by considering the necessary protection measures and restrictions.
Visible in urban areas, the local defence exercises will involve a high number of military vehicles such as armoured personnel carriers. Part of the exercises will also include flight activity. Some troops may utilise blanks that cause noise in the immediate vicinity but are not dangerous.
These exercises will experiment on using the reservists' own mobile phones and other devices as a means for supporting command, control and communications. Utilisation of these so-called everyday devices will supplement the systems used by the Finnish Defence Forces. Based on volunteering, the reservists' permission will be asked to access the given device. This experimentation is part of developing the local defence command, control and communications that is conducted in cooperation with other authorities.
Reservist – attend an exercise only when healthy!
The local defence exercises follow the recommendations by the Government and the Finnish Institute for Health and Welfare on performing hand hygiene and cough/sneeze etiquette and on sustaining safety distances. The exercise implementation will also account for the Finnish Defence Forces' national, regional and local restrictions relating to the coronavirus epidemy. If you have received orders to attend a local defence exercise and feel unwell, please contact your Regional Office without delay. Never attend an exercise while ill. If you arrive at an exercise by public transport, please follow the face mask recommendation by the Finnish Institute for Health and Welfare.
As applicable, protection measures such as face masks are used, for instance, during personnel transport. In a given unit, protection equipment will be used when necessary. The Finnish Defence Forces will give face masks to the reservists attending a refresher training exercise or a voluntary defence exercise. The reservists will be in no contact with the conscript detachments. When necessary, the reservists will be divided to form a number of detachments.
The brigade-level unit responsible for organising the exercise will provide the reservists attending the exercise more detailed information on protection measures upon arrival.
Local defence exercises in the autumn of 2020
Lapland
Savo-Karelia
South Savo
Kokkola
Päijät-Häme
Kehä