Army Commanders pleased with the experiences of the Mechanised Exercise of the Finnish Army (Arrow 16)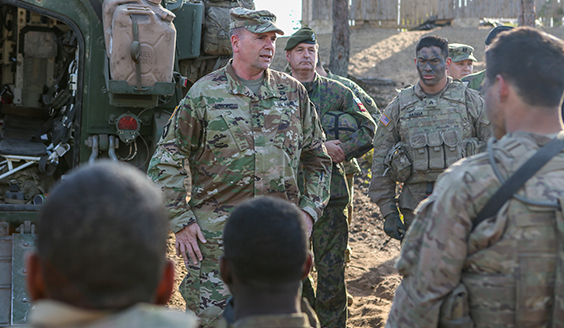 Interoperability, cooperation and trust were the main impressions for the Commanders of the Finnish Army and US Army Europe in regard to the Mechanised Exercise of the Finnish Army (Arrow 16). The exercise ended in Niinisalo today.
The Commander of the US Amy Europe Lt. Gen. Ben Hodges and the Commander of the Finnish Army Lt. Gen. Seppo Toivonen inspected troops in the Mechanised Exercise of the Finnish Army (Arrow 16) from 12 to 13 May. The exercise lasted for two weeks, and for the first time approximately 135 US soldiers from US Army Europe's 2nd Cavalry Regiment's Mechanized Infantry Company took part in the exercise as part of the Finnish battle group.
- The feedback I received from my own troops has been nothing but positive. For us the environment was new and thus it gave our soldiers a great opportunity to train interoperability with the Finnish troops. Nothing builds trust like doing a live fire exercise together, Lt. Gen. Hodges said.
Lt. Gen. Hodges was impressed of the Finnish soldiers', especially the conscripts', skills and motivation.
- The live fire exercise was very challenging and done very professionally. We are interested to participate in the mechanized exercise again, should we be invited back.
Late spring is busy training period for the US soldiers. From Finland they will go to Latvia for the next exercise.
- The Finnish Army is very pleased that we got the chance to train with the famous and very skillful 2. Cavalry Regiment. One cannot develop their capabilities in a vacuum, and the troops were certainly able to learn from each other. The exercise fulfilled its expectations and the troops worked well in cooperation. In the exercise we were able to enhance some important elements regarding interoperability and that is very important in regard to the international crisis management operations we participate in, Lt. Gen. Toivonen commented on the exercise.