Finnish Army's mechanised exercise Arrow 19 will start in Niinisalo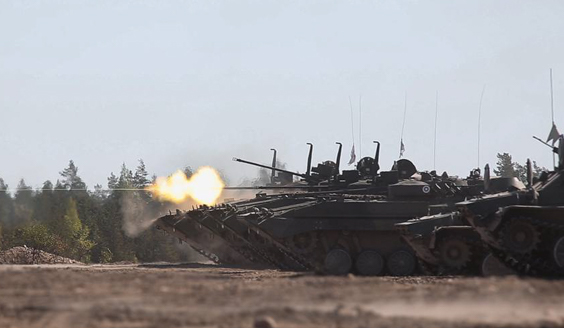 The Armoured Brigade will lead the Finnish Army's mechanised exercise Arrow 19 organised in Pohjankangas, Niinisalo, from 6 May to 17 May 2019.
Focusing on interoperable cooperating between the Finnish Army's mechanised troops and branches in mechanised offensive and joint firing, the exercise Arrow 19 will also involve training connectivity between command echelons, JTAC and Air Force close air support.
The exercise's training objective will entail sustaining and developing the competence proficiency and capability of the Finnish Army troops for the purposes of national defence as well as generating and sustaining combined interoperability. This exercise provides versatile support in developing national defence capabilities and the competence proficiency of service personnel, reservists and conscripts on the operating level of both combatants and units.
This exercise will be participated by service personnel and conscripts from seven brigade-level units including the Armoured Brigade, the Pori Brigade, the Karelia Brigade, the Jaeger Brigade, the Kainuu Brigade, the Utti Jaeger Brigade and the Armoured School of the Army Academy. The exercise will incorporate flight activity of the Air Force. The total strength of the exercise will be some 2,800 persons as well as about 150 armoured vehicles and 300 other military vehicles. The exercise will be led by Commander of the Armoured Brigade, Colonel Tero Ylitalo.
As in previous years, this exercise will bring to Niinisalo exercise troops from the U.S. Army Europe (USAREUR) and the U.S: Marine Corps Forces Europe and Africa (MARFOREUR/AF). This year also troops from Estonia and the U.K. will attend the exercise. The strength of the USAREUR Cavalry Regiment's mechanised infantry in its exercise detachment composition will be altogether some 150 troops whereas that of the MARFOREUR/AF armoured vehicle company will be circa 70 in total. The Estonian exercise contingent will incorporate a 40-person-strong armoured intelligence unit. The U.K. will participate with an armoured intelligence unit comprising approximately 50 troops in this exercise.
The exercise troops will be concentrated in phases in the areas of Kankaanpää and Niinisalo on 6 May 2019. The marching detachments on the move will be advancing at a speed of 50–80 km/h. Tracked vehicles will be transferred to the exercise area by train and on platforms. This means that the overall traffic situation will involve longer trip times and occasional congestion.
An annually organised national training exercise, this Finnish Army's mechanised exercise is in accordance with the Finnish Army's action plan and, as of 2014, open to international partners' exercise detachments.
The exercise Arrow 19 is part of the combined exercise activities approved by the Finnish Ministry of defence for the year 2019.
More specific information will be available on the exercise's website available online at maavoimat.fi/arrow19. Follow the exercise in social media on the Finnish Army's Facebook and Twitter accounts #arrow19.