Maritime search and rescue exercise in the maritime area between Nauvo and Korppoo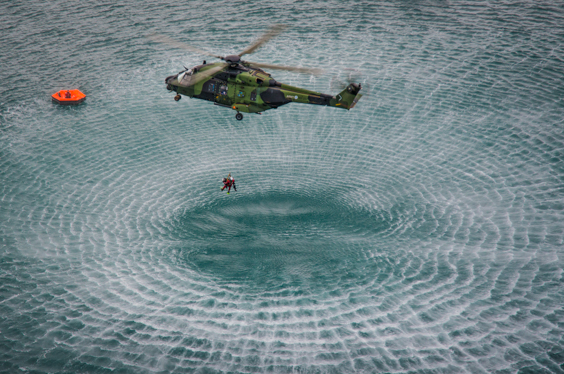 On Thursday 15 November 2018, the West Finland Coast Guard district will organise together with the Utti Jaeger Regiment the maritime search and rescue and winching exercise Janette 18 in the maritime area between Nauvo and Korppoo.
In the training exercise conducted in the maritime area south of Pärnäinen, the Finnish Border Guard's patrol crafts Tursas and Uisko will operate as the target vessels. Altogether over 120 persons in total will partake in the exercise as volunteers from the Finnish Red Cross. The training exercise will be led by the Maritime Rescue Coordination Centre Turku (MRCC).
In the framework of the training exercise scenario, two vessels have collided catching subsequent fires onboard. The passengers onboard the target vessels have become evacuated on life rafts and on islets. The NH90 transport helicopters from the Utti Jaeger Regiment and a maritime rescue helicopter of the Finnish Border Guard will be winching target persons from the rescue points and flying these persons either to Pärnäinen in Nauvo or to Turku. The livex phase will be starting at approximately 13:00 hours and continue until around 19:00 in the evening.
In the training exercise area, plenty of equipment belonging to authorities and voluntary maritime search and rescue operators as well as a number of helicopters will continue to be on the move.