Local defence exercise Lappi 20 enhances inter-agency cooperation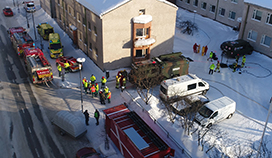 On 24-28 February 2020, the Jaeger Brigade and other authorities in the Lapland region will continue training practical interoperability in inter-authority situations in the local defence exercise Lappi 20 in the region of Sodankylä–Kittilä–Rovaniemi.
The local defence exercise led by the Jaeger Brigade will be participated by troops from the Jaeger Brigade and the Lapland Air Command as well as by personnel from Lapland's Regional State Administrative Agency, Finavia, Lapland Police Department, Lapland Border Guard District, Lapland Hospital District, and Rescue Services of Lapland.
The strength of the exercise will be 300 persons in total. The Exercise Director will Deputy Commander of the Jaeger Brigade Colonel Jari Osmonen.

The local defence exercise aims to develop readiness and defence capability in the area of the Lapland region, exercise personnel in local defence tasks and missions, as well as deepen practical interoperability in inter-authority situations.

On Wednesday 26 February 2020, the exercise will be seen in the area of Kittilä Airport as personnel and equipment of the Finnish Defence Forces, Rescue Services, Police, Border Guard, and Hospital District are on the move at the airport. The exercise area will be cordoned off, and the Military Police will control the traffic.

During the exercise, contacts and enquiries to the exercise duty officer at tel. +358 299 452 112.

You may follow the exercise online at:
#lappi20
#paikallispuolustus
Facebook.com/JaakariPR
Facebook.com/maavoimat
Twitter.com/JaakariPR @JaakariPR
Twitter.com/maavoimat @maavoimat
Instagram.com/puolustusvoimat.fi

Online on the Finnish Army exercise site at https://maavoimat.fi/paikallispuolustusharjoitukset
From 24 February to 6 March 2020, the local defence exercises led by the Army brigade-level units will be organised in South Karelia, Central Finland, Lapland, North Karelia, South Savo, Satakunta, and Uusimaa.