Readiness for disturbance situations by means of local defence exercises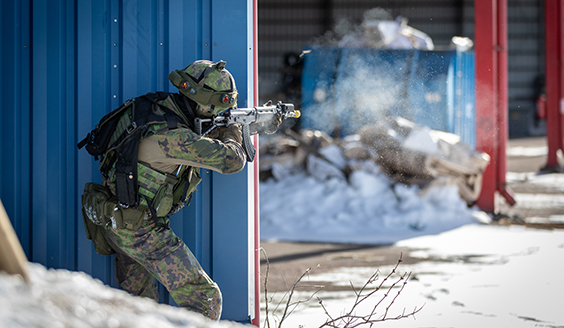 The Army will exercise local defence across Finland during 24.2.–10.3.2023. The exercises will develop the local forces' competence as well as inter-agency cooperation in all of Finland. In conjunction with the exercises, up to c. 2,800 reservists will undertake refresher training.
The exercise entity for the spring will involve six regional exercises in total. The exercises will be attended by more than 6,000 personnel from the Finnish Defence Forces, altogether c. 2,200 of whom will be conscripts, and c. 1,000 service personnel. Additionally, the training audience will include public authorities from cities, police and rescue departments, and wellbeing services counties, as well as corporate and national defence training operators.
Exercising to strengthen common security
This spring, the local defence exercises will have the Army local forces exercise regional guarding, securing, and combat missions as well as develop command, control, and communications, information transmission and shared situation picture with other public authorities. The joint objective is to prepare for disturbance situations. Exercising and drilling aim to secure, for instance, sustained transports, energy supplies and functioning of information networks in case of a disturbance situation, as well as to prevent disturbances from extending beyond a given area.
– Local security is a shared responsibility. By exercising with other public authorities on a regular basis we ensure that we sustain a sound capability for interoperable cooperating and securing citizens' everyday life in all situations, DCOS Army Operations Brigadier General Sami-Antti Takamaa says.
Strengthening the Finnish Defence Forces' readiness and capability in all of Finland, the local forces' tasks include, for instance, securing strategic targets, controlling areas, conducting combat missions and counter-SOF missions. Alongside the Finnish Defence Forces' service personnel, reservists trained for local defence tasks with thorough knowledge of the set area of operations are assigned to the local forces.
– Reservists remain key to local defence. As part of the exercises this spring, the reservists get to exercise their assigned wartime tasks in a versatile manner and cooperate with their area's public authorities, Brigadier General Takamaa points out.
Local defence continues to be exercised on a regular basis as part of the Army annual TREX activity, considering the specificities of each area and region. The planning for exercise and inter-agency cooperation entity is led by the Army Command.
Exercise events in your local area
The local defence exercises will be visible across Finland on 24.2.–10.3.2023. Vehicles will be on the move in residential areas, and some of the exercises will involve flight activity. The training audience troops will use blank drilling ammunition that pose no danger but may cause noise.
Pohjoinen
Oulu
Kehä
Satakunta
Pirkanmaa
Kymi
Follow the exercise:
https://paikallisturvallisuus.fi
Facebook.com/maavoimat
Twitter.com/maavoimat
Instagram.com/maavoimat
For information on how to apply for your own region's local forces, please see: https://intti.fi/paikallisjoukot