Exercise Saber 19 Will Develop Capability for Operating in Urban Areas and Bilateral Interoperability Between Finland and the United Kingdom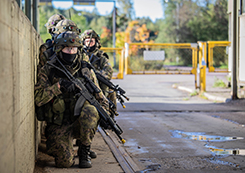 Exercise Saber 19, led by the Guard Jaeger Regiment, is held in the Uusimaa region. The exercise is the final exercise of the conscripts who began their military service in January and are serving in rank-and-file duties, and for those conscript leaders, high-level readiness unit members and military drivers who began their service in July. Also participating in the exercise, is a light infantry unit of approximately 120 soldiers from the United Kingdom. The bilateral cooperation exercise UWFEX19 (Urban warfare exercise) is part of the common training agreed upon by the Finnish and British Armies.
The exercise will have a total strength of 800 soldiers. In addition to the Guard Jaeger Regiment, troops from the Utti Jaeger Regiment and the Armoured Brigade are also participating in the exercise, as well as a light infantry company from the British Army (B (Suffolk) Company 1st Battalion The Royal Anglian Regiment).
The main goal of the exercise is to develop the readiness and capability of the troops of the Guard Jaeger Regiment in demanding combat operations in urban areas. Cooperation with the UK forces develops bilateral interoperability, and enables sharing good practices on the practical level.
- Saber 19 is part of the annual exercises of the Guard Jaeger Regiment. The mentally and physically demanding exercise requires much from both the conscripts and the regular personnel of the Regiment. It is the final training exercise for the conscripts who muster out in the end of June. Training in a large geographical area enables creating scenarios where the units specialising in fighting in urban areas can put all of their skills to use. In this exercise the light infantry company from UK will operate as one unit of the Finnish Urban Jaeger Battalion. The exercise will provide an opportunity to develop interoperability both in tactical command as well as tactics, techniques and procedures, says Exercise Director and Deputy Commander of the Guard Jaeger Regiment, Colonel Rainer Kuosmanen.
In addition to training at Finnish Defence Forces' training and range areas, the units also operate on public and private land. The units will train in Helsinki, Espoo, Karjaa, Kirkkonummi, Lohja, Salo, Tammisaari and Vihti.
The troops will be wearing a fighting load, including an assault rifle. The salaried personnel will be wearing high visibility vests. Blanks and training ammunition will be used daily, which may cause noise in the immediate vicinity of the training location. Noise information
It is possible to follow the exercise on social media using hashtags #sapeli19 and #uwfex19.
facebook.com/KaartinJR
twitter.com @KaartinJR
facebook.com/Maavoimat
twitter.com @maavoimat