Significant milestone reached by the armoured wheeled vehicle and CAVS programme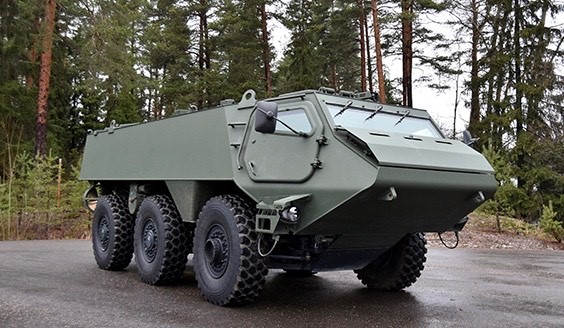 Finland, Latvia, and Patria signed a framework agreement that enables national procurement acquisitions in the CAVS (Common Armoured Vehicle System) armoured wheeled vehicle programme.
The armoured wheeled vehicle programme of the Army (PSAJON2020) started in 2019 as multinational collaboration activity together with Latvia and Estonia. Last autumn, the programme proceeded with Latvia to the research and product development phase called CAVS.
Developing the wheeled mobility of the most capable operational forces of the Army well into the 2060s, the programme will also allow reassigning the currently fielded modernised XA-180M equipment to the local troops.
A significant milestone was reached on 30 August 2021, as the Finnish and Latvian Ministries of Defence and Patria signed a framework agreement in Riga, Latvia, for establishing common conditions for the participating countries relating to the procurement phase of the programme. Following the framework agreement, the national procurement contracts can be signed by the participating countries within their national timetables.
On the same occasion, Latvia ordered the first lot of more than 200 armoured personnel carriers. Additionally, a letter of intent was signed by the Finnish Ministry of Defence and Patria for commissioning 160 new armoured personnel carriers in 2023 with cost-efficiency allowed by the joint undertaking.
- Finland aims to order the pre-series vehicles this year, whereas the serial procurement is to follow the timetable set in the letter of intent signed by the Ministry of Defence to start as of 2023, Inspector of Infantry, Colonel Rainer Peltoniemi says. Decisions on procurement will be separately determined.
To date, the research and product development phase of the CAVS programme has resulted in a common platform and an APC variant. Product development continues relating to a command post vehicle, a life-cycle package, and an increasingly protected APC variant. In conjunction, it is possible that also other vehicle variants get to be designed and developed depending on the needs of the participating countries. The programme remains open for other countries to join.
- This marks an important opening. The drawn up and signed framework agreement enables moving on to the procurement phase of the APC variant. Latvia had an opportunity to make the first procurement purchases at this stage. Finland's procurement acquisitions are planned to be implemented in accordance with the development plan during the period from 2023 to 2032, Inspector of Infantry Colonel Rainer Peltoniemi from the Army Command summarises.
The Army will issue releases as the programme advances.
The MOD issued a press release on the signing of the framework agreement on 30.8.2021.
Photo: Patria.