The Army's infantry fighting vehicles CV9030 will be upgraded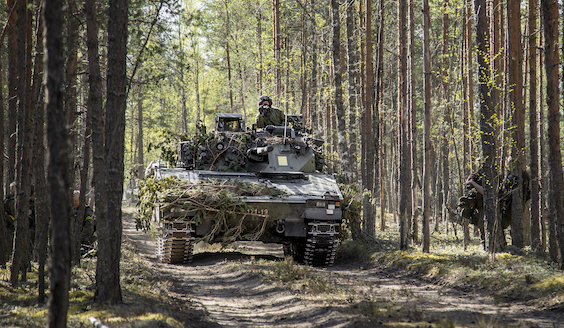 On 22.6.2021, Minister of Defence Antti Kaikkonen authorized the Defence Forces Logistics Command to procure a mid-life upgrade for the Army's infantry fighting vehicle CV9030 fleet. The procurement will ensure the availability and extend the life cycle of the infantry fighting vehicles to the 2030s.
The upgrade of the equipment acquired from Sweden during the years 2002-2007 is aimed at improving the general availability and maintainability of the vehicle, developing in-service safety and upgrading the technology and software of the system.
The procurement for the upgrade has been prepared with the manufacturer of the vehicles BAE Systems Hägglunds Ab, which will use a domestic subcontractor for the upgrade. The subcontracting cooperation has an objective of contributing to the know-how of Millog Oy, a strategic partner of the Defence Forces for the purpose of securing security of supply. The employment effect of the work to be done in Finland is estimated to be about 23 person years. The planning and development work involving the upgrade, and the prototypes are planned to be done in Sweden, and the pre-production series and serial work in Finland.
- This is the project nationally referred to as JET and internationally known as the MLE project (Mid-Life Extension) aimed at maintaining the CV9030 fleet the Army's main infantry fighting equipment, says the Inspector of the Infantry Colonel Rainer Peltoniemi.
- The upgrade will secure the capability of the vehicles to the 2030s. At the same time, it will make it possible to eventually have a more extensive mid-life upgrade (MLU) performed on the vehicles during the latter part of their life cycle. It is crucial that Finland possesses and acquires maintenance capability and know-how required for emergency conditions through subcontracting cooperation, and strengthens them further. From the perspective of readiness as well it is important that the vehicles stay in Finland while the upgrade work is going on.
The total cost of the procurement, options included, without value-added tax is appr. 33 € Million. It will be funded from the Defence Forces' materiel procurement funds planned and budgeted for this purpose. The upgrade will be completed in 2026.
More information involving infantry fighting vehicle CV9030 is available in the Materiel and Equipment Gallery of the Finnish Defence Forces: Infantry fighting vehicle CV9030 (puolustusvoimat.fi)