U.S. Army Europe and Africa Commanding General visited Finland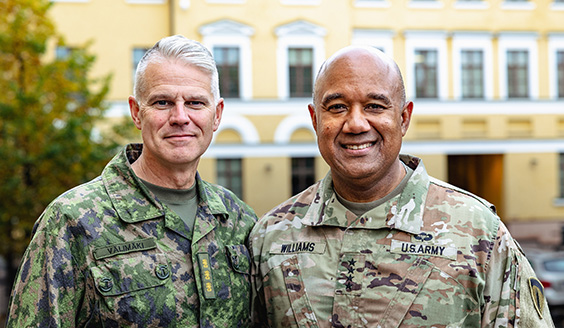 Commanding General of U.S. Army Europe and Africa, General Darryl A. Williams visited Finland on 14 September 2022. This past summer, U.S. Army Europe forces participated in the arranged Finnish Army complementary training and exercise activity, which provided a good opportunity for a combined training and exercising experience.
General Williams' visit was hosted by Commander of the Finnish Army, Lieutenant General Pasi Välimäki. During the visit, the commanders discussed bilateral cooperation and its future guidelines as well as findings relating to training and exercise activity. USAREUR-AF forces were closely involved in the arranged Army complementary training and exercise activity for summer 2022.
- Our cooperation remains at very good level. This past summer's combined exercising increased the ability of our forces to operate together. At the same time, we learned from each other's best practices – at several levels and in many ways. We now continue developing the capability for interoperable operating both functionally and technically, Lieutenant General Välimäki says.
- Finland's summer training series provided us the opportunity to continue improving our interoperability and strengthening our already strong partnership, said General Williams.
- It's these types of professional training opportunities that make Finland a valuable partner in defense and in my new role as Commander of Allied Land Command, I look forward to the prospect of welcoming Finland to the Alliance.