Winter Training Exercise of Utti Jaeger Regiment in Lapland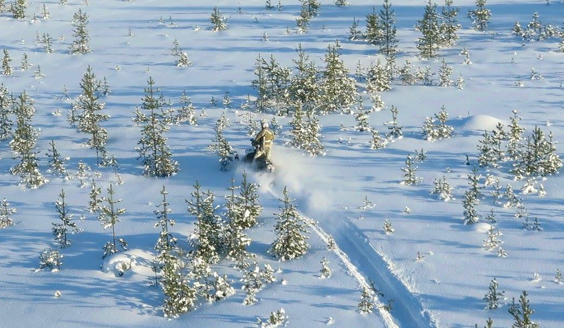 An annual winter training exercise of the Utti Jaeger Regiment, the exercise Northern Griffin 18 will start in Lapland on 5 February 2018. This year the exercise will be organized in two parts, with the first one taking place from 5 to 16 February and the second one from 26 February to 23 March 2018.
The objective of the exercise Northern Griffin 18 is to enhance the operating capabilities and interoperability of special operations forces and helicopter crews in the demanding arctic conditions of Lapland. Helicopter crews will train facilitating capabilities related to winter and mountain flying in conjunction with special operations and night vision flights.
The special operations forces will train, among other things, interoperability in reconnaissance and combat tasks as well as sustaining operating capabilities and survival skills during long transitions in fell landscape conditions. The soldiers will advance in terrain dismounted on skis and on foot, by snowmobiles and by all-terrain tracked trucks. In the exercise, training munitions will be utilized.
This exercise will be organised in two parts. The preparatory national exercise takes place from 5 February to 16 February 2018 in the areas of Rovaniemi, Kemijärvi, Sodankylä and Pelkosenniemi. The second part of the exercise will extend from 26 February to 23 March 2018 in the entire area of the Lapland Region, excluding the Wilderness Areas of Käsivarsi, Paistunturi, Kaldoaivi and Vätsäri.
In March, the exercise will be attended by international cooperation partners from Sweden, Norway, Estonia, Poland, and the United States of America.
Overall, the strength of the exercise personnel is approximately 580 persons, of whom around 330 persons will be conscripts and salaried personnel of the Finnish Defence Forces and the Finnish Border Guard. The total strength of the participating international detachments is circa 250 persons.
Flight activity in the entire area of Lapland
The Finnish helicopter detachment in the exercise Northern Griffin 18 will comprise seven NH90 transport and utility helicopters as well as six MD500 light utility helicopters. Sweden will participate in the exercise with three AW109 multi-purpose helicopters and three UH-60M helicopters, and the United States with four MH-60S helicopters. Troops and equipment will also be transported by means of C-17 Globe Master and C130 cargo and transport aircraft.
In conjunction with the exercise, flight activity will be conducted at all hours in Lapland. The majority of air operations will occur in March in cooperation with the aircraft of the participating international detachments. During the flight missions, the helicopters will also do approaches and landings and may use lights and force protection flares that will appear as bright halos.
The Finnish Ministry of Defence has approved the annual exercise Northern Griffin as part of the Finnish Army's International Exercise Activities for 2018.