A Strong Reservist Presence in Kehä 22 Local Defence Exercise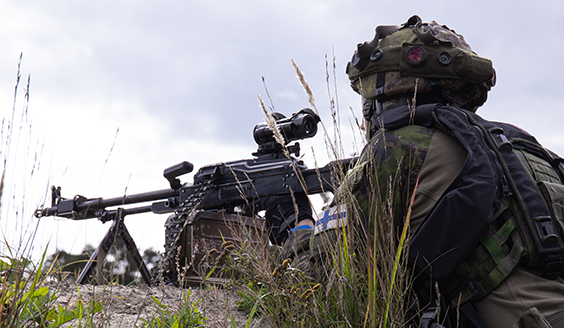 The year's second local defence exercise led by the Guard Jaeger Regiment, Kehä 22, will be organized in the Helsinki metropolitan area and in Western Uusimaa. The strength of the training units will be around 1,100, consisting of conscripts, reservists and regular personnel. The exercise will be led by the Deputy Commander of the Guard Jaeger Regiment, Colonel Vesa Laitonen.
The exercise will include training of local-level inter-agency cooperation with the goal of enhancing operating capabilities between agencies. Authorities in the exercise include the West Uusimaa Police Department and Länsi-Uusimaa Rescue Department, as well as the municipal authorities of Espoo, Hanko and Kirkonummi.
A total of some 700 reservists will participate in the exercise. It is the largest number of reservists participating in an exercise led by the Guard Jaeger Regiment for many years.
This autumn exercise is the final field training exercise of the rank-and-file military police troops who muster out in September. The Reconnaissance Company of the Guard Jaeger Regiment will also be participating in the exercise.
The exercise units will mainly operate in the Helsinki metropolitan area and Western Uusimaa. The locations will be in Helsinki, Espoo, Kirkkonummi, Raasepori and Hanko. The training units will be wearing a fighting load, including an assault rifle. The opposing forces may wear civilian clothing. The regular personnel will be wearing yellow high-visibility vests on top of their combat uniform. There are around 200 vehicles involved in the exercise, including armoured vehicles. Blank ammunition will be used in some of the training areas, and they may cause noise in the surrounding area. The localities and times will be provided in a Noise and Firings Notice.
Kehä 22 is a part of a continuum of local defence exercises. Local defence exercises are organized twice a year across Finland. In these exercises, focus is placed on developing local forces' performance and cooperating with various authorities.
Representatives of media are welcome to a Media Day held in Espoo on Tuesday, 6 September 2022. The event will give you an opportunity to learn about this inter-agency cooperation exercise. You may sign up for the Media Day contacting the Public Affairs Officer for the Exercise (contact information below).
You may follow the exercise on social media with hashtags: #kehä22, #kaartjr, #maavoimat, #paikallisturvallisuus, #paikallispuolustajat ja #reservinura.
Media contacts: Public Affairs Officer for the exercise: Meri Leppänen, + 358 (0) 299 421 235, [email protected]