Army Combined Fires Exercise begins in Rovajärvi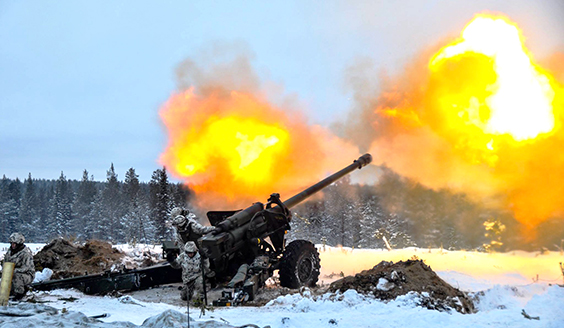 Army Combined Fires Exercise 2016 will take place from 15–25 November at the Rovajärvi firing range.
The exercise is the Finnish Defence Forces' largest overall live firing and leadership exercise of this year. All in all around 4,000 conscripts, reservists and regular personnel from all the Army brigade-level units and the Border Guard will take part. A detachment of 45 soldiers from Sweden's Artillery Regiment (Artilleriregementet, A9) will also participate in the exercise as part of the ongoing bilateral cooperation between the Finnish and Swedish Armies.
The Army Combined Fires Exercise will develop formation and task force firing as well as interoperability between branches of service on a broad spectrum. The exercise is made up of task force and system training phases that focus on especially field artillery and infantry live firing, planning of firing and leadership. In relation to Army activities, also research and artillery field tests will be conducted during the exercise.
During the exercise, the aim of the bilateral cooperation between the Finnish and Swedish Armies is to develop joint fire know-how and improve the interoperability of the troops. The exercise is approved by the Ministry of Defence as a part of the Finnish Army's international exercise plan for 2016.
The Army's Combined Fires Exercise is led by the Army Academy and commanded by the Army Academy's Deputy Commandant, Colonel Petteri Rokka, and Inspector of the Artillery, Colonel Pasi Pasivirta.
Follow the exercise online:
Maavoimat.fi
Facebook.com/maavoimat #MVH16
Twitter.com/maavoimat @maavoimat
Instagram.com/puolustusvoimat.fi
Youtube.com/puolustusvoimat