Army effects and joint fires will be exercised at Rovajärvi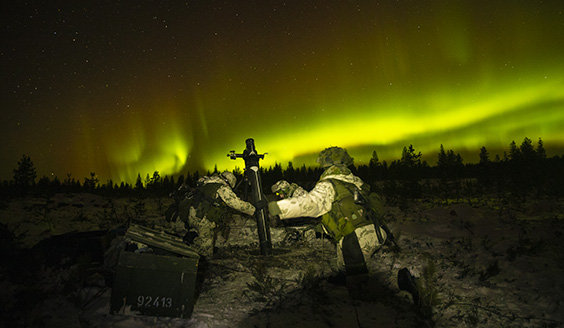 The Army effects exercise MVH21 will be organised at the Rovajärvi range and training area from 10 to 26 November 2021. The exercise MVH21 is one of the most important exercises of the Army this year.
The exercise will be participated by up to altogether c. 4,000 personnel and 800 vehicles from all services and from the Finnish Border Guard. The exercise force will include conscripts, reservist and salaried service personnel from the Finnish Defence Forces.
– The exercise's objective is to develop the entity of Army effects and joint fires in a rapidly developing situation framework. The exercise will develop inter-service and intra-Army interoperability, Exercise Director, Colonel Kari Pietiläinen from the Army Academy explains.
The exercise will strengthen troops' competence in planning joint fires and in combined arms inter-service-branch interoperable cooperating.
– The Army continues to be constantly developed so that it is possible to react rapidly in disturbance situations as applicable, Colonel Pietiläinen points out.
A significant number of the of the conscripts participating in the exercise will be mustering out in December. For these conscripts, the exercise MVH21 marks a final training exercise after which they are ready to operate in their set wartime tasks.
– The exercise tests and validates the competence, capability and training of the conscripts mustering out later this year on their set tasks as a wartime force, Colonel Pietiläinen says.
The exercise will follow the Defence Forces' instructions in force relating to measures for coronavirus prevention, including sustained hand hygiene protocol and having troops operate in detachments.
The exercise can be followed on social media with #maavoimat and #MVH21, and at the exercise's site available at maavoimat.fi/mvh21.