Local defence exercises of the Finnish Army will be visible all around Finland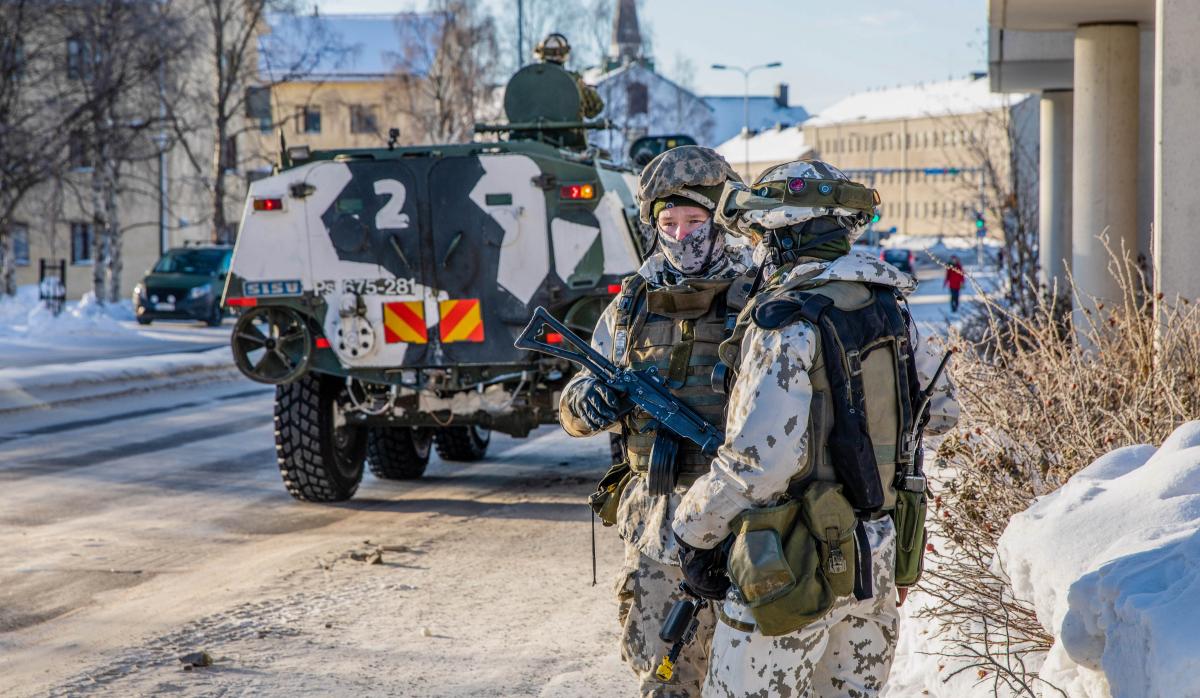 The Finnish Army will conduct training in local defence tasks and missions in Kymenlaakso, Lapland, Pirkanmaa, North Ostrobothnia, Satakunta, Uusimaa and Southwest Finland from 25 February to 8 March 2019. Altogether, approximately 3,400 conscripts, reservists and service personnel as well as some 500 vehicles will undertake training in total. Focusing on challenging surveillance and protection tasks and missions, the local defence exercises will also involve practicing interauthority executive assistance.
Organising local defence exercises enables improving troops' performance capability and competence proficiency while operating in a local environment. As its focal point, the exercises' main effort involves enhancing C3, readiness and equipment of the local defence units.
– The key themes for the exercises will include training the tasks and missions of the local units as well as carrying out interauthority cooperation in versatile situations. Among others, the typical tasks and missions of the local units entail protecting targets and functions, ACOS Operations of the Finnish Army, Colonel Pasi Hirvonen explains.
Versatile and demanding tasks
The Finnish Army's training activities trace back to the tasks relating to emergency conditions and development of troops' performance capability and competence proficiency. In safeguarding the vital functions of society, the local battalions comprising reservists and service personnel sustain a seminal role. The local defence exercises offer an excellent platform for training the implementation of these tasks in cooperation with other authorities.
– The tasks and missions of the local units are versatile and demanding, which is also why these units need to engage in active training in their own area of responsibility. However, the exercises per se are always planned in cooperation with the participating authorities and other actors involved with the intention to form overall exercise entities that serve all the participating actors. This ensures that different authorities get to command and control the activities of their set responsibility while being supported by the others involved, Colonel Hirvonen points out.
Troops' performance capability put to the test
Apart from the service personnel, reservists and authorities, the local defence exercises will also be participated by conscripts, such as readiness units and military police who are to muster out in March.
– These exercises validate the conscripts' performance capability. The Finnish Army's readiness units' versatile equipment and training undertaken enable providing support to other authorities. The local defence exercises will also be partaken by conscript companies formed by brigade-level units that are utilised, for instance, for conducting target protection missions, Colonel Hirvonen specifies.
Local defence exercises summarised in a nutshell
Local defence exercises are organised in the Finnish Army twice a year (in the spring and in the autumn) over the entire territory of Finland.
The exercises' themes and emphases will vary depending either on the chosen focus area or on the exercise locality. The types of training exercise objectives that are frequently employed include, among others, the following:

Exchanging the given situation picture between authorities and forming a common situation picture
Conducting command and control, exchanging information and conducting cooperation measures between different command and reporting centres
Operating in situations involving multi-authority cooperation as well as coordinated leading, information exchange and reporting procedures therein
Exercising service personnel as well as training conscripts and reservists in tasks and missions of local defence
Bringing about and training readiness and defence capability on a local level
Establishing a regional/local command and reporting centre
Local defence exercises 1/2019

Exercise

Date

Exercise areas

Exercise troops

Leading brigade-level unit

Kehä 19

4.–8.3.2019

Capital region (Helsinki, Vantaa)

c. 520 persons

Guard Jaeger Regiment

Kymi 119

4.–8.3.2019

Kouvola region (incl. helicopter operations)

c. 1,500 persons

Karelia Brigade

Lappi 19 ja Oulu 19

25.2.–1.3.2019

Kemi, Oulu

c. 600 persons

Kainuu
Brigade

Pirkanmaa 19

4.–8.3.2019

Tampere

c. 170 persons

Armoured Brigade

Uusikaupunki 19

1.–8.3.2019

Uusikaupunki, Laitila, Pyhäränta, Turku, Säkylä

c. 600 persons

Pori Brigade