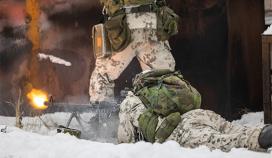 Almost 3300 persons comprising conscripts, reservists and Defence Forces service personnel will participate in this military exercise stretching from Helsinki to Niinisalo in Kankaanpää in late November- early December. Troops from the Army, Navy, Defence Forces Logistics Command and the Finnish Defence Forces C5 Agency subordinate to the Defence Command will take part in the exercise.
The Finnish Defence Forces supports the Border Guard in securing the border situation by establishing executive assistance detachments to assist personnel in the construction of public order barriers. In addition, the Finnish Defence Forces provide material support. The task of the executive assistance departments began on Sunday 19 November 2023. The detachments consist of personnel and conscripts from the Army's brigade-level units.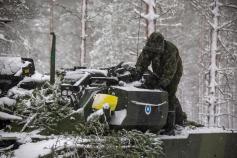 The army's mechanized exercise Hammer 23 has begun with the main forces moving to Pohjankangas between Sunday and Monday. The co-operation between practicing troops will be the key element in the combat phase which begins on Wednesday 1st of November. The exercise starts by unit's independent training phase where each unit practices independently for the last time before the combat phase begins. It's important to practice every last detail in this phase so every unit is in its full potential.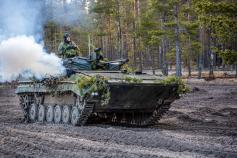 The Army mechanized exercise Hammer 23 will be organized at the Pohjankangas shooting and training area in Niinisalo from 27 October to 7 November 2023. The exercise enhances the rapid execution capability of the battle group and battalion, cooperation between the branches, provision of host nation support as well as cooperation with Allies. Approximately 2600 soldiers, over half of them reservists, will participate in the exercise led by the Armoured Brigade.