Speech of the Finnish Army Commander, Lieutenant General Seppo Toivonen, at Finland's Independence Day Parade in Kajaani 6 December 2016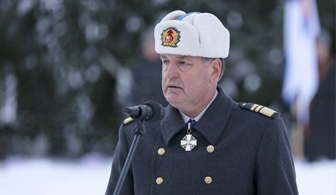 Our most honoured war veterans and Lottas, ladies and gentlemen, soldiers.
This year marks the 365th anniversary of the founding of the city of Kajaani. Throughout Finland's history, Kajaani has experienced the dangers of a border town and the consequences of economic change. What has helped people get through these troubled times is their strong faith in their local community and their country. This is a good place for soldiers to operate. I thank the people of Kajaani and Kainuu for the unrelenting support they have given to the Defence Forces over the decades.
We celebrate Finland's independence in what are trying times. The stability that has characterised Europe for decades has been replaced by a new kind of uncertainty.
Displays and use of military force, information operations, the wave of asylum seekers and the impact this has had on Europe, terrorist attacks and slow economic growth are undermining the foundations of European security.
Many of these challenges can only be addressed through tight international cooperation, but our own national readiness is no less important.
A functioning democracy and social stability are the foundations of our society. The Finnish model of comprehensive security and our well-established cooperation between authorities are elementary too. Of course such readiness requires regular practice for it to run smoothly. Voluntary national defence also has great value, as citizens are then able to act in abnormal conditions and times of crises.
The task of the Defence Forces is to prevent and, when called upon, to repel any use of or threat of military force against our country. To fulfil this task, all elements of defence must be in good condition and in a sufficient state of readiness. Our level of activity must be such that we are prepared for any sudden changes in our security environment.
Materiel readiness is one measure of credible defence. The Navy Squadron 2020 and the replacement of the Air Force's primary air defence asset are strategic defence procurements in themselves that also ensure the operational capabilities of the Army in times of crises.
Ladies and gentlemen!
Today's parade is above all a display of Army materiel. The Army - our ground force - is to defend Finnish territory, to protect areas that are crucial to our society and, when required, to support other authorities in fulfilling their tasks and duties. Many of the recent crises around the world bear witness to the fact that ground forces and the control of land areas remains crucial in any conflict.
The Finnish Army has paid special attention to is readiness in recent times. We have come up with functioning, cost-effective solutions for dealing with soon-to-be obsolete Army materiel. This work continues.
Defence Forces' personnel have demonstrated exceptional dedication to their tasks. They have completed their tasks despite the uncertainty that change brings. People have saved no effort when they have had to respond to the changes in the security situation.
Conscripts and reservists too have fulfilled their duties. Foreigners who are familiarised with our Defence Forces will, without exception, comment on the high level of motivation of our personnel and on how quickly our conscripts and personnel acquire new skills. General conscription works. Most young men and voluntary women complete their military service honourably. The support of family and friends deserves special mention.
The Finnish Defence Forces participate in military crisis management according to the principles set by our Government. Finnish voluntary reservists and FDF personnel have been taking part in operations for sixty years already. These operations often take place in challenging circumstances. International tasks not only put individual abilities to the test - but Finland's capacity to act as part of a multinational force too. I want to thank all those who have served in operations as well as those who are currently abroad in operations and their loved ones.
Soldiers!
We stand in this parade field forever grateful for the sacrifices made by the generations that had to live through the wars. Had they not fought against the invader, had they not rebuilt this country after the wars, today's Finland would be a very different place indeed. The chain of defenders of this nation has soon remained unbroken for a full century. Today, it is our turn to bear responsibility for the defence of Finland.
Parade troops, let us raise three cheers for our fatherland - for independent Finland!